TEL:0086-769-83028783
FAX:0086-769-83028783
Address:No. 29, Huanzhuli Industrial Road, Changping Town, Dongguan City, Guangdong, China 523585
1.Technical support
Hon Tool professional quoting team provides the most competitive solutions with quality services to help you win more jobs.
-Offer optimized product analysis in accordance with tolerances for product requirements, product usage rate of materials, form techniques, and necessary process to finish the product.
-Decide the die type according to customer's requirement, annual volume and Die types and determine the optimum die size according to process characteristics;
-Our technical department can provide technical support for product which needs help to develop (Simulation, strip layout, process layout, etc.)
-Ensure quote accuracy, timeliness, reliability and transparency. 。
--------------------------------------------------------------------------------------------------
2.Project Management
From project startup to finish, our experienced bilingual Project Engineers customise and provide customer with individual service . At the beginning of project, our technical team would review the entire project design, make detailed plan and progress estimation. During die manufacturing, project engineer make weekly progress report to ensure that you can know all progress in time. Highly transparent project management system and quick responsiveness are the key points to ensure the delivery timing. We provide reporting and recording of information, scheduling and supervision to meet your requirements.
--------------------------------------------------------------------------------------------------
3.Quality Control
The development and ultimate survival of an enterprise lies within its customers' satisfaction, on many levels, not least including quality, of which Hon Tool has a deep understanding. To ensure the quality is maintained ongoing. Hon Tool adopts the use of professional measurement and test instruments such as: 3D Programmable CMM, Projectors, Hardness testers, Height gage and so on.
The Quality Management System ensures maintenance and continuous improvement of the production process and supplementary activities in accordance with the standard ISO9001:2015 . From incoming material to the outgoing finished product, every process is under strict quality inspecting.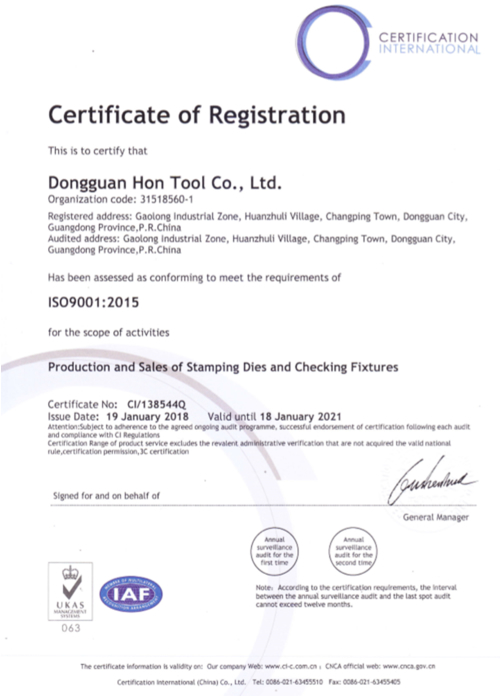 Hon Tool was awarded The Advanced Technological Enterprise of Guangdong Province, The Key Enterprise of Tool Industry of Shenzhen, The Member of Shenzhen Machinery Association.
--------------------------------------------------------------------------------------------------
4.After-sale Service
To improve customer satisfaction, we have been attaching great importance to after-sales operational performance of our products, and we provide continuous technical support to our customers; we make periodic survey to get suggestion of improvement from our customers, and let customer know the results of improving timely. Meanwhile, we are searching more useful market information, building high quality products and providing excellent services to meet customers' need in time. If customers needed, we can do home-line support.